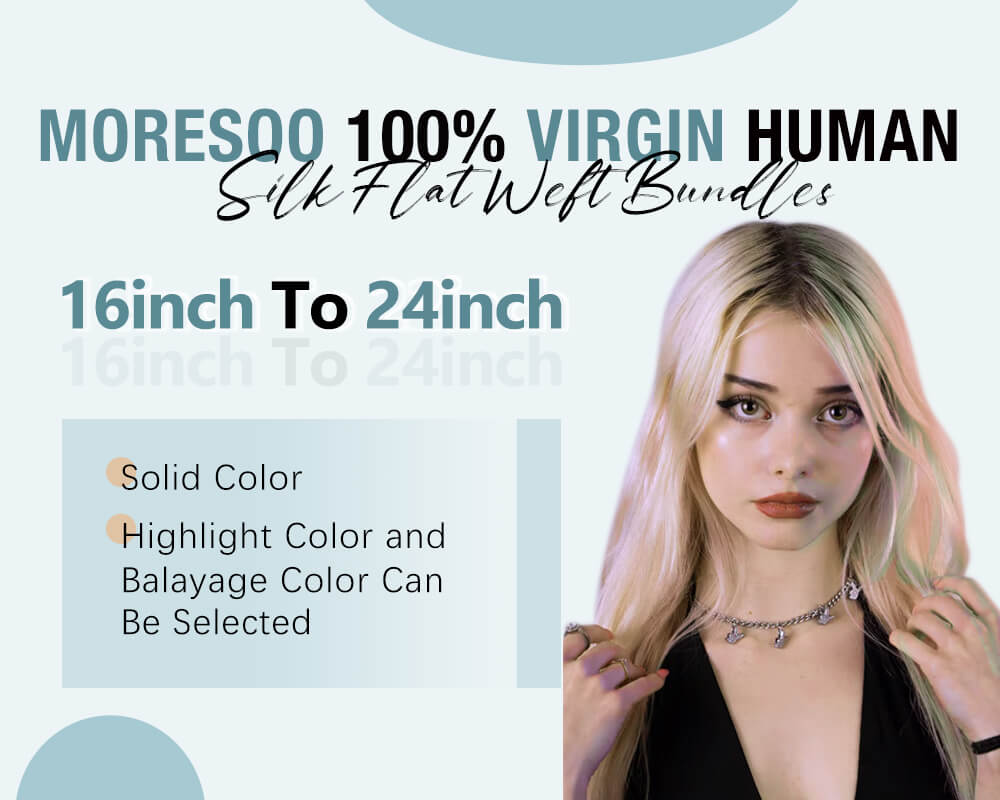 What's Flat Weft
Flat weft hair extensions, also known as sew-in hair extensions or Flat Track Weft Hair Extensions, are a type of hair extension that is embedded into a flat seal. The flat weft design allows the extensions to lay flat against the head, providing a natural and seamless appearance. What makes them special is that they combine the seamless blend and comfort of a hand-tied weft and the long-lasting durability of a machine bonded weft. This type of extension is a popular choice among women who want to add length, volume or colour to their natural hair.
Product Details
Material: 100% Brazilian Virgin Human Hair.
Color: #2 Dark Brown
Weight: 50g per pack, 100g two packs
【We recommend 2 Packs for Thick Hair, 3 Packs for Thin Hair, and 4 Packs or more for Fine Hair】
Hair Type: Virgin silk flat weft
Advantages of Flat Silk Weft

Natural Look: Flat weft extensions lie flat against the scalp, creating a natural appearance. They are less bulky and noticeable compared to some other types of extensions, making them an excellent choice for a seamless blend with natural hair.

Comfort: Due to its thin and flat design and no short return hair, flat weft extensions are often considered comfortable to wear, even for extended periods.
Discreet: Because of their flat profile, these extensions are less likely to be visible, making them a popular choice for individuals who want their hair extensions to remain undetectable.
Durability: Flat wefts are known for their durability and can last for several months with proper care.
Reuse: Depending on the quality and care, flat weft extensions can often be reused for multiple applications, making them an eco-friendly choice.
Difference Between Flat Weft and Machine Weft
Profile: Flat wefts are very thin and flat in profile. They are designed to lie close to the scalp for a natural and discreet look. Machine wefts are thicker and more substantial compared to flat wefts.
Comfort: Due to their thin design, flat wefts are often considered very comfortable to wear. They are lightweight and do not put excessive tension on the natural hair. While machine wefts can provide a secure hold, they may feel heavier on the scalp compared to flat wefts, particularly when used for full-head weaves.
Visibility: Flat wefts are known for their ability to blend seamlessly with the natural hair, even in cases of fine or thinning hair. Machine wefts may be more visible near the scalp, and the styling options may be limited to cover the wefts effectively.
Short Return Hair: Flat weft doesn't have short return hair, mahcine weft has short return hair.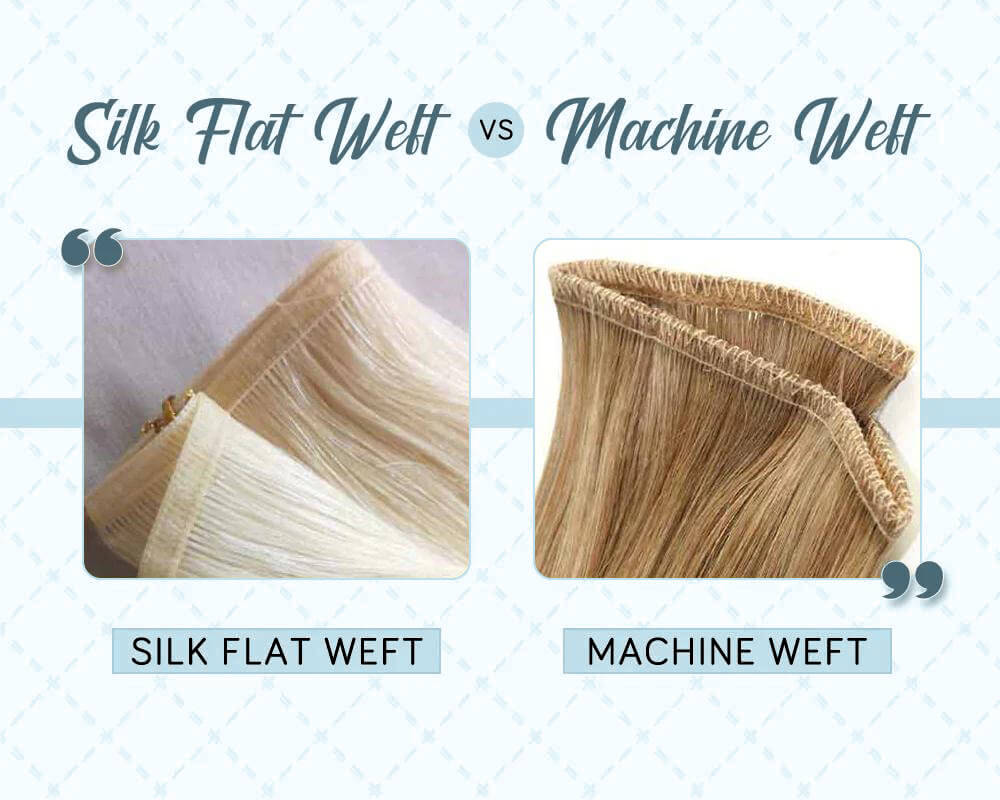 Why Choose Virgin Quality Hair
Unprocessed and Natural: Virgin hair is completely unprocessed, meaning it has not been chemically treated, dyed, or altered in any way. This ensures that the hair maintains its natural texture, color, and shine.

High Quality: Virgin hair is often considered the highest quality hair available. Because it is unaltered, it has a pristine appearance and feels soft and luxurious.

Longevity: Virgin hair can last a long time with proper care. It remains in excellent condition for months or even years, making it a cost-effective choice in the long run.

Versatility: Virgin hair can be styled and treated just like natural hair. You can curl, straighten, dye, and heat-style it without worrying about damage.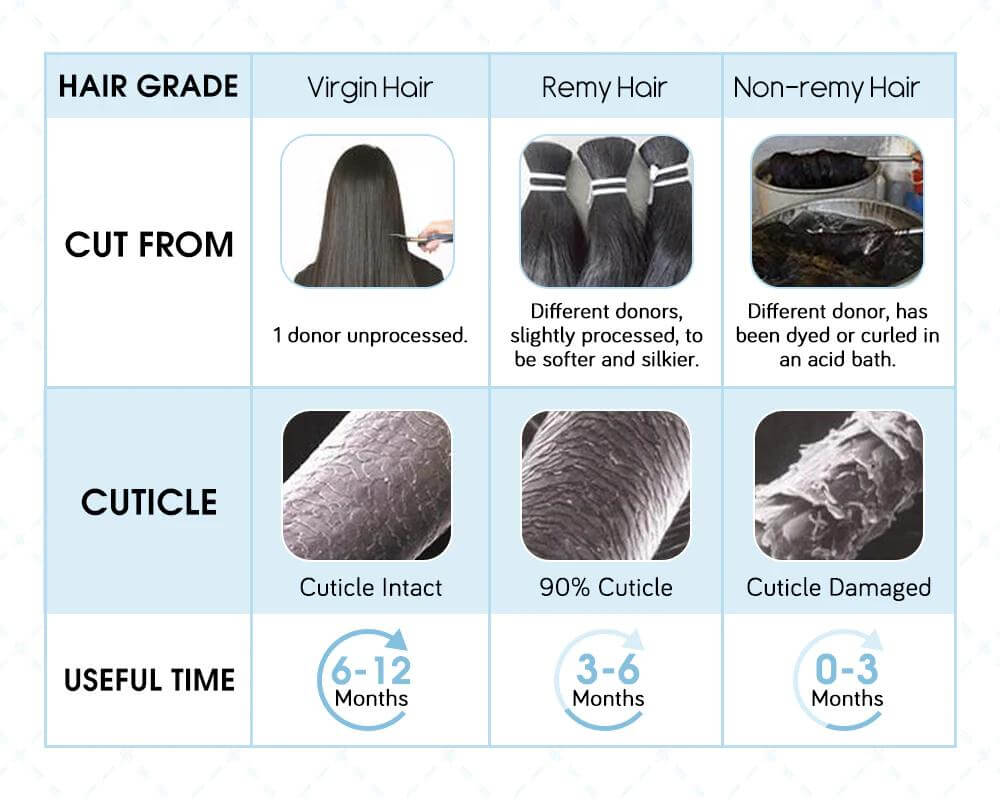 How to Wear Virgin Flat Weft
Installing virgin flat weft hair extensions can be done at home, but for the best results, it's advisable to seek professional help. Here are some common methods of installing hair curtains:
Clip-In Method: This method allows you to easily attach and remove the extensions whenever you like without the need for adhesive or sewing.

Glue-In Method: This method involves applying a bonding or adhesive glue to the wefts and then attaching them to your natural hair.

Micro Link or Bead Method: This method uses small metal beads or micro links to attach individual hair wefts to your natural hair.

Sew-In Method: In this traditional method, the hair weft are sewn onto your natural hair using a needle and thread. This method is popular for its durability and longevity.
The following is a video showing how to wear hair weft.
Customer Show

How to Care Your Extensions
Moresoo Hair Extensions use 100% Virgin hair or Remy hair, allowing you to style and wash them just like your natural hair. When properly cared for, these extensions can last for 6-12 months or even longer, depending on how often you wear them. It's important to note that frequent washing and heat styling can shorten their lifespan. To maximize their longevity, aim to minimize washing and product usage, and follow our recommended expert hair care tips for at-home care. 
Comb Your Hair Gently

Take small sections of hair and brush from the scalp over the extensions to mid lengths, being careful to tease any tangles out from the bottom lengths first. When you brush close to the roots, you can brush over the bonds using a soft bristle brush for tape extensions. For Pre-Bonded wearers, separate the extensions with your fingers on a regular basis to prevent matting.
Wash Your Hair Correctly

"Stylist Method" hair extensions: it's recommended to wash them 2-3 times per week. Use a gentle, paraben-free, and sulfate-free shampoo and conditione.Comb your hair before shampooing.
For "DIY" hair extensions, you should wash them after every 5 wears. Use the same paraben-free and sulfate-free shampoo and conditioner.
 Make sure that you are not applying full shower pressure when showering.
Wet the hair in a downward motion.
Then massage your scalp in-between the bonds with your fingertips.
When you're done, Rinse your hair thoroughly and add the conditioner through your lengths.
Rinse the conditioner out and dry with a towel to remove excess water
If you plan to blow dry, add a heat protector or leave-in moisturizer.
Kindly Remand:
Please don't use shampoo containing alcohol or sulfate

Do not shampoo your hair for at least 48 hours after your extensions are applied

shampoo and condition your hair at least twice a week

Do not apply conditioner or shampoo in the root area or near the attachments.
Sleep With Your Hair
We recommend that you brush your hair and braid it before you go to bed.
This will prevent tangles. And always choose a silk pillowcase to avoid friction. But never sleep with wet hair.
Dye Your Hair Easily

Our hair extensions can take colour really well. You can colour your hair with the extensions attached. It's fine to dye your roots, or running a full semi-permanent colour. But please be do not to bleach your hair. Bleaching hair will shorten the life of hair extensions.
Style Your Hair
The hair can be straightened, curled, washed and restyled as you like. It is better to avoid heat. The much you use it, the shorter your hair extensions will last. We recommend that you use heat protection products to protect your natural hair and hair extensions from potential wear and heat damage. Please notice that the temperature should be under 160℃.
1. How long do the extensions last?
Generally speaking, Remy hair extension can last for 3-6 months and Virgin extensions can last up to 12 months. And your personal care also matters the life of the extensions. In a word, the more you care them the longer they will last.
2. *Why the color seems not exactly like the pictures show or description?
The pictures were taken in kind in 100%, but due to the reason of light and the display, the picture that you see may have a slight color difference problem, this is inevitable, please understanding! If you need to compare hair color, look at it under natural light. For the final color refer to the real item.
3. *I bought the #60 color, why does the actual picture look like #1000 color?
The difference between #60 and #1000 colors may not be very clear to the naked eye, and there will be differences between different monitors. If you want to see the actual photos of these two colors before purchasing, we can send you the actual photos of the warehouse.
4. I don't know which color is suitable for me?
You can take some photos of your own hair and send them to email: service@moresoo.com. Please click here for shooting requirements. We will provide free color match service.
5. Can they be straightened, curled?
Yes, you could use hair straightener or hair curler to style our hair product. However, don't do it too frequently and heating temperature shall not exceed 160 ℃.
6. What kind of shampoo and/or conditioner can I use?
Moisturizing shampoos and balsam conditioners are recommended. Please don't use the purple shampoo or other colorful shampoo to wash light color hair goods.
Also, avoid shampoos and conditioners that have been formulated for specific types of hair, such as thin hair, dry hair, oily hair and so on.
How can I cancel an order?
We accept order cancellation before the product is shipped or produced. If the order is cancelled you will get full refund. We cannot cancel the order if the product is already shipped out.
What items are returnable?
We Are Pleased to Offer a Return or Exchange within 30 Days of Receiving Your Products On All Hair Extensions That Have Not Been Worn or Colored (Worn, Colored or Damaged Items Are Not Eligible for Return or Exchange).
Our packaging is clear and you can see the color without needing to open it. You can also purchase a color ring or a sample of the color.
Please keep the packaging and all original contents. When you first examine your hair extensions, and before you cut the security strings, please hold the hair extensions up to your own hair to check whether it blends well or not.
To be eligible for a return, your item must be unused and in the same condition that you received it. It must also be in the original packaging. To complete your return, we require a receipt or proof of purchase. Please ask our customer service to make sure you send the package to the right address.
We May charge a 5% to 50% restocking fees according to the status of the returned item.
*Notes
Custom-order or personalised items do not have a right to 30 days refund.
If the return is caused by the consumer, consumer should be responsible for the shipping fee. The specific fee should be based on the express company you choose.
If due to our reasons, the goods received are damaged or not correct, the consumer is not required to bear the shipping fee for this reason. No restocking fee to be charged to the consumers for the return of a product.

Please putting a small paper noting your order number MN-#***** in the return package and make sure you will send to the right address.
How soon will I get my refund?
Once your return is received and inspected, we will email you a notification of receipt. We will also notify you of the approval or rejection of your refund. If you are approved, then your refund will be processed, and a credit will automatically be applied to your credit card or original method of payment, within a certain amount of days.
How do I return or exchange my item(s)?
Return or Exchange Should Within the Return Period.
Email:

service@moresoo.com

and inform us about your order id, replaced item.
Send back the item that need to be exchanged and email us the return information.
Exchanged item will be mailed out after we get the returned item and make sure they are in good condition.
What should I do if the item(s) are lost?
If you have not received the item for more than 20 days, you can request the item to be lost.

Email:

service@moresoo.com

and inform us about your order id, item.
We will contact the logistics company to determine whether it is lost, and it is estimated that it will take 1-2 weeks to confirm the status of the package.
 After the lost item is confirmed, we will refund to the original account according to the actual payment amount (arrived within 48 hours).