Moresoo Injection Tape Hair
Recently, injection tape in hair is very popular in the market. What it is?
Injection Tape in Hair:  The new product in the market, the hair seems growing from your own scalp as skin weft, but no short hair at top, ultra thin, very comfortable to wear, last more than 1 year and tangle free, pure real Virgin human hair quality, best and highest in the market, can compete with any famous hair companies.

These Tape in hair extensions strips are injection moulded to allow for the extensions to securely attach to the clients hair comfortably.The difference with these tapes is the unique injection of hair on the front of each tape that it blends with the hair, making the extensions less visible, giving the appearance of natural hair growing from the root.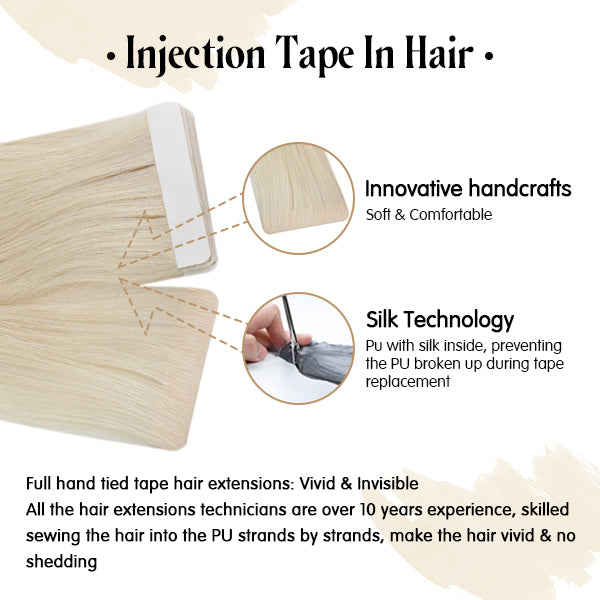 Advantage of injection-moulded tape-ins

Invisible and more natural. Mimics root growth to give elegance invisible skin looking.
Thinner and more comfortable than ordinary tape extensions, close to the human skin. Without any knots impact.
Allow applying and removing same as the common tape hair extensions. Can be styled, curled and colored.
No damage to natural hair. Anti-shedding, reusable, durable, create maximum impact.

As the most popular tape in hair recently, injection tape in hair never let new customer or loyal customer down! And now you can use code VIRGIN20  to enjoy discount when order Moresoo injection tape in hair!


You May Also Like: